At ThoroughClean we want to make sure you know how to safely use your pressure cleaner.
We provide specialist training to our customers that not only ensures you comply with industry regulations, but also protects users of a water jetting system and any individuals who might be in the vicinity.
We can provide onsite and on-line (Only Class A) training direct to all end users.
Our training complies with AS/NZS 4233.1, standards. Which applies if a hydro jetting system is classified as a Class A or Class B machine.
Start our Training Course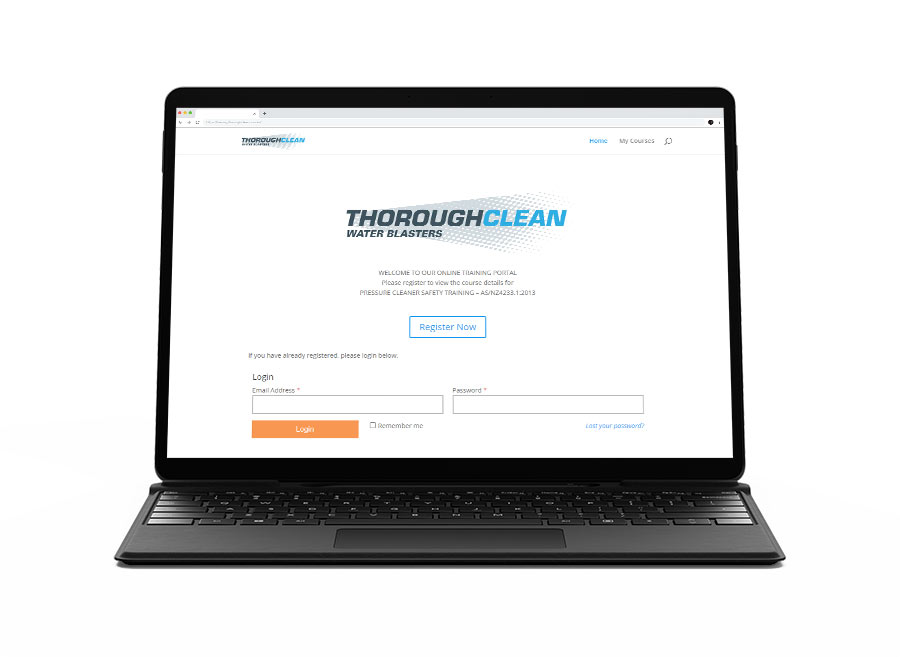 Onsite Class room training
We can provide onsite class room training if required. With this course meeting minimum requirements for Class A and Class B systems as outlined in AS/NZS 4233.1
Our recommendation is this training would suit Class B system operators (5000 PSI to 60,000 PSI) and for permanent wash bay operators.
Online training
Our online training modules and full course meets the minimum requirements for Class A systems as outlined in AS/NZS 4233.1
This course is ideal for casual Class A system operators, typically someone who is renting /hiring a Class A machine from a rental company.
AS/NZS 4233.1:2013 also recommends that refresher training courses should be carried out every two years to ensure the competency of operators.
All our courses are designed to promote safe operation and maintenance of hydro jetting systems in the workplace.
Start our Training Course